Live Report: Rowan Brings His Sound to Life for Flagship Show at Whelans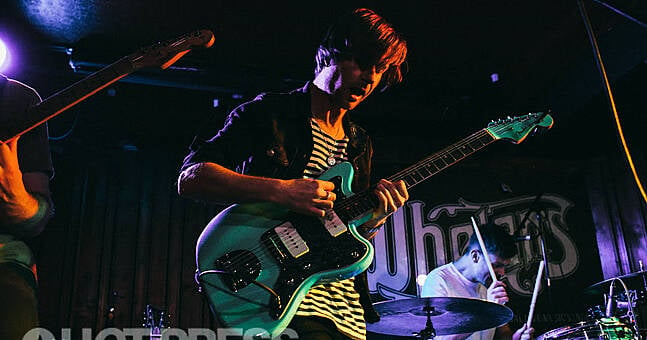 The Friday night spotlight shone Rowan, illuminating Whelans with a headline show on the day their debut album was released, Does it make you happy?
Dropping a debut album the morning of your first headlining show is an extremely dangerous move. But a while ago during Rowan's signature show on the Upstairs stage at Whelan's, as Dylan Howe stood perched on a drum set before launching into the first note of "Everybody Talks," where the Irish band made one thing clear: they are not afraid to bet on themselves.
While the world was closed on their first outings, the trio leaned in and took things seriously. What followed was the 2021 EP Everyone talks, a little taste tester in the band building sound. Now that the music is alive and touring is in the present, not the past, Rowan has secured his place in the present.
Walking into Whelan's on Friday night, I was greeted by the background noise of the three-piece indie-rock band from Cork, opening track from their new album, Does it make you happy? Except it wasn't a pre-show playlist, but the band itself in rehearsal. Sound traveled from within the hall's brick walls, injecting an immediate buzz of excitement into the air. It was an almost too perfect tease, a premeditated proclamation that seemed to scream, "Welcome to our world, come in…"
If Rowan had his own world, stepping into it would feel like coming home to some vaguely familiar place. Inside, friends and family have transformed the space into an intimate setting conducive to the birth of a largely unprecedented show. That buzz ran through Laura Duff's opening set, a mix of alt-pop and indie tracks like "The Other Side," which exuded electrifying darkness through a descending guitar solo reminiscent of Led Zeppelin's "Stairway to Heaven." .
When it was time for Rowan to step in, a NASA radio recording signaled the launch of the "Apollo" album, heralding their arrival in spades. Seductive, distorted vocals complement frontman Dylan Howe's raspy, fuzzy timbre (similar to Julian Casablancas' style) on the record, but in person it's crisp and harmonized.
There's a subtle, nonchalant nature to Rowan's manner, hidden in the close moments that can only be captured live, from their effortless instrumental synchronization to the wry expressions of their lead vocalist. They were composed and simultaneously captivating, drawing audiences in with their dynamic camaraderie. "Give us your best shout out," Howe asked after the first song, then changed things up, diving into a fan favorite from their latest EP, Everyone talks.
For a track lyrically centered on loss, "One Of These Days" is ambiguous enough to get lost in its fast and energetic vocal delivery, piercing guitar lines and militant drumming. At one point, Fionn Hennessy-Hayes' drumming was so impassioned that I swore I saw smoke rising from the cymbals. He seamlessly transitioned from the breathless whiplash of the song's outro straight to backing vocals on "Read It in the News," his mouth pressed against an overhead mic.
The remarkable syncopated "Big Wave" was billed as a pre-pandemic song about, as Howe put it, "all that's wrong with the world." And yet, with bumpy riffs and a playful, oddly tropical melody, "These times they're getting me down" wasn't all that convincing; it's a sad song in disguise, proven by the crowd as they followed orders. and lending a helping hand to the driving beat. It's Rowan's shrill songwriting: contradicting the stinging songwriting with indie tunes that make you feel alive and forget to care. Howe and guitarist Kevin Herron even pledged playfully in a dueling game of instruments which may or may not involve some tongue action.
"Youth & Youthhood" is a turning point on record and off, the kind of coming-of-age soundtrack that's actually about coming of age. It's about "not being so old but feeling like you are," Howe explained. The guys held back on the first verse with just a steady drumbeat, before Howe erupted with "I'm a little scared" and completely ripped the song off in the best way. It encompasses all that is painful and enjoyable about growing up, building a bridge over the singing chorus of the crowd before descending into soft acoustic strumming. This sweetness hung in the air until it was colored black with "A Fire", entering a haunting realm decorated by occasional droplets of light from the chimes of the electric guitar. Howe's voice was endless and agonizing, the drumming relentless and clashing, the whole act was a beautiful drowned mess.
'Irish To My Bones' is the guys' indulgence for edgier rock. Howe's screaming guitar riffs and actual howls — an effort that took him to the ground — were the perfect duo. The music roared with him, leaving their audience no choice but to join in such a release.
When the time came for the title track, "Does It Make You Happy," everything seemed to come full circle, encompassing all of Rowan's many sounds in one painterly performance. A buzzing soundscape gently introduced an ensemble of instruments, gradually building throughout the track and culminating in an exit. As the music died down and Howe held back before the final verse, a machine sprayed a colorful cloud of confetti into the audience.
The outro was both final and sustained, a bubbly minute and a half that sent a subliminal message as the band disappeared offstage: that's it, for now.
But the crowd wasn't over yet. When Rowan reappeared for their encore, they were tied with us: Howe with an acoustic guitar, flaked by Hennessy-Hayes and Herron.
Voluntarily silent to show a poignant three-way harmony, 'I Don't Wanna Talk' created a moment of intimacy in this room. It was the shared sensitivity of hearing a song stripped down to its barest bones by three singers basking in the warmth of a lit room on fire and gently extinguishing the flame.
They immediately struck another match. "You like noise, don't you?" Howe joked as a wisp of confetti fell from the ceiling.
The lead singer re-entered the crowd for "Nothing's Gonna Change," ending with their first breakout song. It was as infectious live as it was recorded, full of alternate guitar riffs and lively quirkiness. There is an essence of hopeless escapism in his writing. The leader's gritty voice echoed the phrase, "I need a better weekday to say the things I need to say."
And it's Rowan who comes full circle: singing a song about feeling unknown in a room full of people clinging to every last word they had to sing, every last note they had to offer.
We have moved on to the time when artists needed to identify their style. But right now, for now, Rowan proves he knows exactly who they are and where they want to go, aiming for the stratosphere. Their latest record lit the fire; their sensational live show sent the rocket sky high.
Listen to Rowan's debut album, Does it make you happy? now on all streaming platforms.